Tungsten and titanium are the most popular contemporary metals available on the jeweler's market. Most of the people think that they are same in nature because of similar surface appearance. However, both metals are completely different. Here are some important features to consider before you select a material.
Price
As compared to the precious jewelry metals like gold, tungsten, and titanium are affordable. However, the price of both metals varies based on manufacturer, style, quality and finishing rings.
Composition
Titanium is a mixed metal that is slightly alloyed with other elements. Commonly it is mixed with vanadium and aluminum to use it for jewelry. Most of the jewelry use 85% pure grade for titanium jewelry. However, tungsten is a rear metal that is used in its original form.
Hardness
Tungsten is the hardest material available on the planet after diamond. It is harder than gold and platinum. Titanium is a hard metal as well but it is not harder than tungsten.
Scratch resistance
Tungsten is harder due to which it is highly scratch resistant

Titanium is scratch resistant as compared to other popular elements, but it is not more scratch resistant than tungsten.

Other than diamond there is no material available on the earth that can scratch tungsten.
Crack resistance
When it comes to crack resistance titanium is more crack resistant as compared to tungsten wedding bands. It has been found that if you will strike tungsten rings against hard enough surfaces it will easily crack. However, there are some rings available that are less brittle due to which they will last longer.
Weight
When it comes to the weight of the product both the metals re extremely different. Titanium is lightweight and it is good for individuals that like to wear jewelry all the time. On the other hand, tungsten is heavy and you can easily feel its weight on your fingers.
Color
Tungsten rings and titanium both are naturally gunmetal in color. However, they are more popular in the black version. Most of the people like to have the rings that are black platted. However, tungsten will give you a more classic appearance. It resembles platinum or white gold in appearance.
Emergency removal
A common misconception most of the individuals have is that no one can remove the tungsten or titanium in an emergency. However, they can be easily removed. You can use the jeweler's saw to cut the ring made of titanium. However, for the tungsten ring, you will have to use pliers to crack the ring.
Resizing
The similar option goes for the resizing of rings. They cannot be resized because of the brittleness and hardness of the material. However, they are affordable and so you can easily replace the rings if they are tight or loose.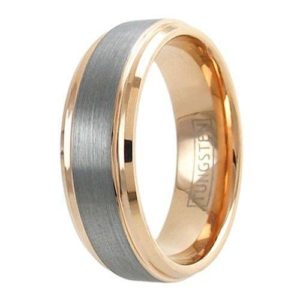 Assure that you buy the style of the ring that you like the most. Tungsten rings come embedded with stones and even diamonds. You can find the best quality rings at intelli rings.  
View more tungsten rings & tungsten wedding bands.